Ftv Girls Teen Newbie Leia
She's just turned 18, and is totally new to anything adult — never even taken nude photos before! We start with an interview, notice how shy she is… and slowly have her strip down naked for the first time. She's also never really masturbated in her life, only used to having sex, so we start her off with the Eroscillator vibrator. Surprising even herself, she ends up having an orgasm rather quickly, with some very strong & visible vaginal contractions!
Then she tries out the Long Pink dildo, with its vibration on… she ends up fucking herself hard, and almost has another orgasm. Notice how her toes curl up as she gets totally into it. We then get extreme closeups of her private parts, while she pulls on her labia and spreads. A little experimentation ends up having her fingering her butt, then trying out the FTV Monster Toy! She barely gets the head in, and a little deeper while riding it on top. Its the biggest thing she's ever had inside her!
Masturbating once more, she has another strong orgasm with her vaginal contractions seen up close. Notice how milky wet she gets all the time, dripping wet juices to the floor! She then puts on her sexiest dress & heels, and while we are shooting, she continues to drip wet juices, all on to the tile. She starts fingering herself, listen to those juicy sounds inside!
Then she shows off her pretty butt, and Kalila the assistant massages her butt, then starts fingering her deep… anally! Her perky little breasts get some nipple play as well. A bit of her hymen still 'exists', sticking out of her vagina, and Kalila plays and pulls on it.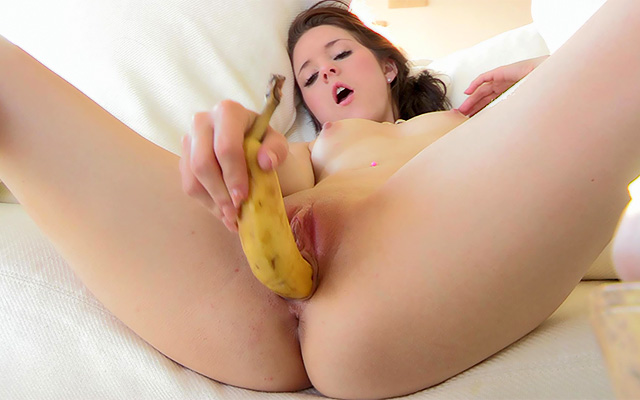 To finish off for the day, she tries a banana — fucking herself rather hard, and her wet insides letting the banana slip in and out easily. Surprisingly, she seems to get off on it, using it as a sexy toy for a while. So many new experiences for her, this quiet, shy girl learns a lot of things about her sexual nature — a Total First Time Video Girl.