Ftv Girls Romi & Raylene in Mirror Image
These two girls are a total treat for FTV — as they are 22 year old identical twins! They are six foot tall fashion models with a very kinky side to them, ready to express their sexual side on FTV! Never done adult work before, consider them total first timers who want to be exclusive to the site.
Meeting up with them at the airport at night, we see how pretty they are, interview them at the restaurant, have them flash, go shopping, get caught at the department store, then have them run around naked everywhere! They are exhibitionist types, and love their beautiful assets.
We see them in the morning wake up and cuddle in the bed naked, end up with a pillow fight, then challenge each other to who can orgasm first. Masturbating together, they end up with strong orgasms with visible vaginal contractions.
Going out to a car show, they get everyone's' attention, and have no problem flashing their breasts and butt! We then see them go to a less busy area near an office complex, and get completely naked, chasing each other and spreading wide! They end up at a grocery store, picking up cucumbers and bananas, and flashing some more…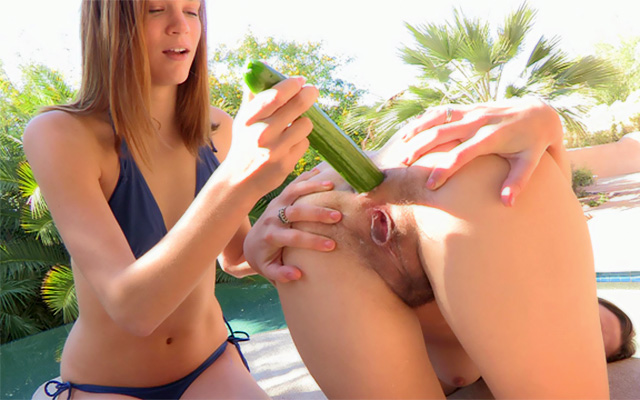 To see more of this gallery make sure to click here
Back home Romi experiments with a rather massive & thick cucumber in her vagina, pushing her limits on how deep and wide she can go. Using her strong vaginal muscles, she shoots it out quite a distance! Then the longer cucumber ends up in her butt… very deep! Raylene helps her out, and uses the cucumber on her. Once again, Romi shows off the strength of her vaginal and butt muscles, shooting out the cucumber from her butt 10 feet away!
Raylene helps her spread her butt wide, creating massive butt gaping views. Then Romi tries the Vibraking Toy, and ends up with two very strong orgasms and strong vaginal contractions. We then get to see extreme closeups of her private parts, and notice she has a full bush! Then she tries stuffing four fingers deep…
Out at lunch, they flash their breasts some more, teasing each others nipples, pulling on them. Then we see them at a pretty, exotic resort, wearing very sexy matching dresses & wedges. They truly look like fashion models, with those sexy long legs of theirs! They start teasing each other, get naked, spread their vagina & butt, then use dildos on each other! These sisters are definitely not inhibited, and enjoy each other.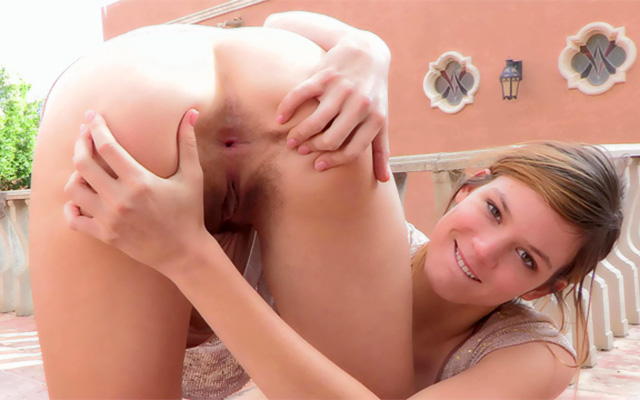 To see more of this gallery make sure to click here
Back at home, they show off their flexibility, doing all kinds of sexy stretches and yoga poses in the nude, then do a dance together with their favorite kind of music. As this rather cold day ends, they go out jogging naked on a street, and give their goodbyes in the sunset. They're an amazing, sexy pair, and enjoy their first weekend together… more to come!