Ftv Girls Nicky in Sporty Tushy
She's a superfit athletic type of girl, who likes to run, climb, do crossfit and many other activities… She's never done any adult before, and happens to be the best friend of Summer who appeared on FTV a few weeks before. She wants to try FTV as well, and surprises us with her comfort with public nudity as well as pushing her limits when it comes to all sorts of kinky play. Not only that, she loves masturbating a lot, and has so many orgasms throughout the shoot…
To see more of this video make sure to click here
We first meet her hiking a rather dangerous mountain trail, with the goal of getting to the top! Of course, it becomes a public nudity event as she goes topless, then bottomless, as so many people stare in wonder (and even follow her). Notice that perfectly shaped, full, firm butt that we get to enjoy so much of on this trail! After a dinner interview, she flashes some more at a mall…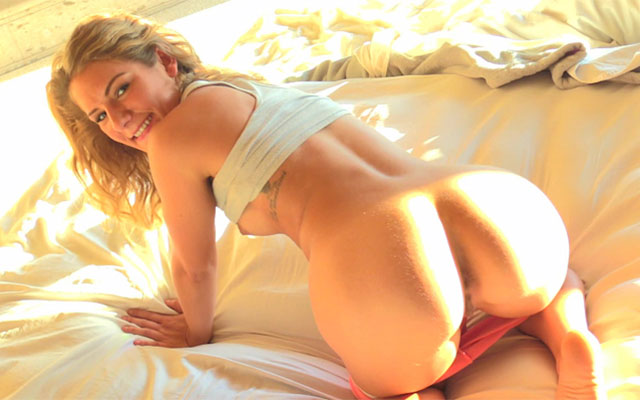 She then goes back home, gets naked, and tries the Eroscillator for the first time, and cannot stop! She ends up having several orgasms with contractions throughout. Her toes twitch and curl up with so much pleasure… On the next morning, we see her wake up in some cute comfy wear, spread for us, do some flexible poses, show off that sexy butt, then finger herself. It leads to a nice, morning masturbation with just her fingers, as she rubs herself hard and fast to another strong orgasm with visible vaginal contractions!
To see more of this video make sure to click here
Her bouncy fun nature leads to a little dancing scene, shaking her hips to the music, and for us to enjoy that firm naked body in motion again. We then watch her spread her private parts, showing off her very petite place and get extreme closeups of her swollen clit as well as some gaping. It leads to more fingering, until she has five fingers inside her, and she attempts to fist herself, getting close and near-fisting. She then super gapes, and has water poured into her vagina as she then squirts it out! Take note of her strong vaginal muscles, as she make her vagina open and close…
Playing with a long dildo, she proceeds to fuck herself with it hard and fast, and uses her fingers to rub her clit to another orgasm! So she loves penetration too… Then she goes anal, spreading and gaping her butt, then deep fingering herself, and using the dildo anally!
To see more of this video make sure to click here
On the next day, we see her in a cute little skirt and skimpy see through top, and she goes to visit a department store where she does some risky public nudity by flashing and fingering herself, and buying a baseball bat… We watch her in that miniskirt flashing around a neighborhood, doing cartwheels and backstands, showing off how wet she is, then fingering herself to another natural orgasm outside! She truly is a natural masturbator.
To see more of this video make sure to click here
She pushes her limits with a baseball bat, taking in the big end and trying to see how deep she goes — then in a sudden twist, she takes the other side, and pushes the handle deep, and has it 'jam' in there, literally hanging out of her vagina. That heavy bat is held tight by her strong vaginal muscles, as she swings it about, then grinds against it deep! Hot and super kinky… Wearing a sexy blue dress and silver heels, she models for us at a resort area, with teases and upskirt views, then goes back home to deep finger herself and get four fingers in her…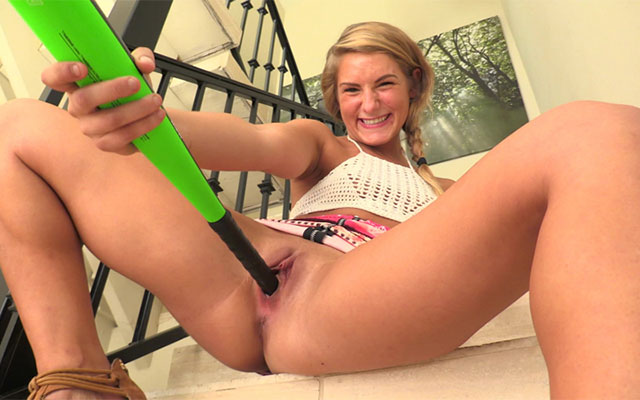 She ends up having to pee, so she does it poolside. Its time to try the Vibraking Toy, and she can't stop using it! She enjoys the orgasms she gets from it, and calls it her new best friend. She puts on a cute innocent white dress that just happens to be seethrough in the sunlight, so we check her out between the legs, then watch her finger herself from afar as she plays by the pool.
We then introduce her to the FTV Pink Monster Toy, which she tries to give a blowjob to, then rides as deep as it can go. Its so wide though, it really pushes her limits! As the day comes to an end, we see her back in her sporty clothes, doing another run… which leads to a nude jog down a trail. Its back to anal play, as she uses a long string of anal beads and gets them all inside her, then pulls them out! What a fun total first timer and what an adventure shoot — masturbating everywhere, multiple orgasms, major public nudity, and some really kinky experiences that make her another perfect addition to FTV 🙂