Ftv Girls Marley Brinx in Candian Beauty II + III
Marley's popularity on her first time shoot demanded a return — so she was brought back a few weeks after the first shoot with even more kinky & public things to experience!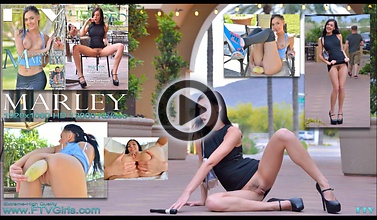 We are reintroduced to her at a restaurant row, where we see her in a very sexy black dress & heels. No panties of course, and we get teases up her dress revealing pubic hair… and a vibrator inside her vagina! The whole time she's had a toy in her, which she proceeds to masturbate with at a restaurant seating area while people walk by! Nice views of her being penetrated in doggy, then getting stopped by security (but not before she ended up running completely naked through the mall!).
To see more of this gallery make sure to click here
After a dinner tease, she then goes home and gets naked to masturbate with the Magic Wand toy to a nice, strong orgasm with visible vaginal contractions. Wet inside, she then does four fingers stuffing, while she attempted to fist. Next morning, we see her in cute form fitting butt shorts, and notice the 'inner thigh gap' of those perfect curves. She takes everything off, and plays with the Vibraking Vibrator. It brings her to four squirting orgasms, wetting everything around her! Notice how her vagina pulsates with all the pleasure/stimulation. Then we get some great spreads, gaping views and her fingering her butt.
To see more of this gallery make sure to click here
At a park adjacent to a golf course, we see her jogging in a rather loose top, which has her breasts bouncing everywhere, and her nipples popping out. Golfers nearby watch her running back and forth while she does some cartwheels and backbends, then runs butt naked. She discovers a rather large radish to play with… shaped just right, she penetrates one end inside her as deep as it can go, then goes doggy to continue. Notice how wide it is, and how it pushes her butthole upwards to accomodate it! Then she takes the radish in her butt and stretches her butthole out some more, ending up doing a spread 'in your face'.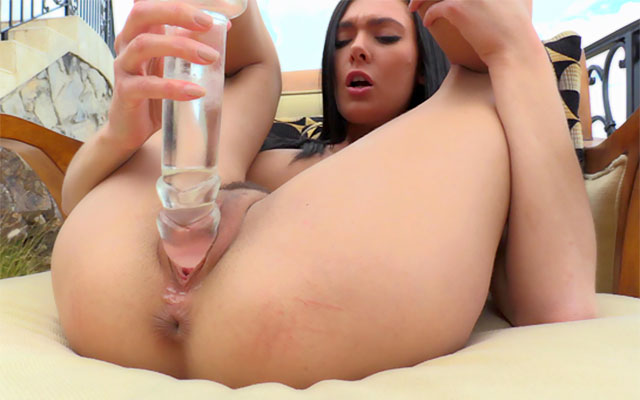 To see more of this gallery make sure to
click here
Back home, she's wearing these small boy shorts, and talking about her early masturbation experiences. We get cameltoe views, then extreme closeups of her private parts as well as long labia stretching. Working on some four finger gaping of her vagina, we do a little kinky scene where water is poured in. It makes her feel like she has to pee, so she goes outside and sprays from the balcony railing. Then she brings out her favorite double ended dildo, and pushes both ends into her butt & vagina, and tries to push as deep as she can anally!
We then get some really massive anal gaping, with three fingers on each hand! The first day is done, but then there's the next day on the following update where it gets more intense on the public nudity and kink…
——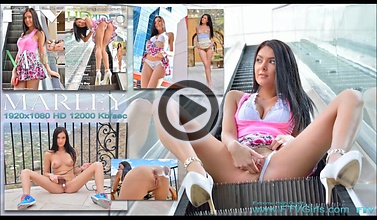 This girl's beauty and sexy nature really shines in those cute little & colorful outfits. Its finally sunny on the second day of shooting, and she's looking radiant in both photo and video.
To see more of this gallery make sure to click here
We're at mall and sneak cute videos when nobody is watching. We see her walking around in tall white heels, twirling, and showing off her cute white panties, then climbing an escalator for more upskirt shots before settling down and playing with herself on the steps. A security guard does end up showing up as she overstays her welcome, but not before another naked walk through the mall!
To see more of this gallery make sure to click here
Moving on from being out in the open, she ends up in the parking garage, and watch her play with the Glass Ball toy for anal play. She fucks herself in the butt, and her tight sphincter muscles hold on to the heavy toy while she does squats! Then she goes to another mall, and she is wearing more comfortable shoes (her sneakers) and it just makes her look more girl-next door-ish and fits better with all the people watching her shoot.
She does twirls flashing her panties, spreads and teases, then after all that public nudity goes to have a breakfast. The thick glass toy seems like the perfect fit for Marley — its big, thick, and long — but enough to make it work for her both vaginally and anally. She starts with the vagina, penetrating herself missionary, then riding it. She gets about 7 of the 8 inches inside her, tapping out to the back of her vagina. You can tell it completely fills her up. It would seem like it would be more difficult to do the same anally, but she gets almost as deep that way, taking about 6 inches of that hard, thick toy! Notice how it stretches out her butt, and how her sphincter muscles wrap tightly around the edges.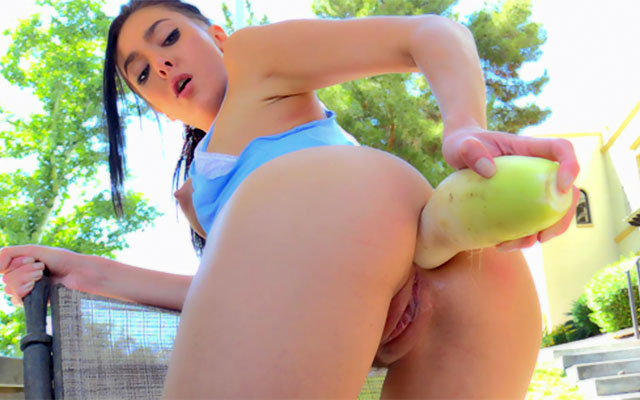 To see more of this gallery make sure to
click here
Great views from doggy, then after she pulls it out, stretches & gapes her butthole so wide in the sunlight you see rather deep inside with every detail. In cute pink bra & panties, she does some ballet poses to music, then ends up stripping down and doing a panty stuffing scene, making those panties disappear inside her! Later at a restaurant, she does a topless interview with people eating all around her, then does a cute little teaser around a coke machine, confusing the employees! Visiting a resort, the dress she is wearing with the matching heels look very sexy and 'sophisticated', making her look rather elegant and leggy.
From upskirt to downblouse views and nude walking, she has a fun time exposing that perfect body at the resort. Its time for one last masturbation, and it turns into a rather strong orgasm with some really strong & visible vaginal contractions. With this shoot, Marley had a really great experience, and we hope there's a lot you see here that satisfies your fetish — whether its the public, anal, orgasms, or simply enjoying her natural beauty and personality!