Ftv Girls Blaire in Ftv's Tallest Teen
18 years old, supercute, girl next door type, Blaire is striking when you see her, not just because of her beauty, but of how tall she is! Over six feet tall, with heels she's going beyond 6'4″. Even with her leggy slim look, she's got a perfect pair of full, firm breasts underneath and a nice butt too! She's a total first timer, who has never done any adult work before, and her shyness in front of the camera shows.
To see more of this gallery make sure to click here
We first see her wearing a sexy black dress and wedges, walking down a street, giving us upskirt views and teasing us with her supercute private parts between her legs. Eventually she takes all her clothes off, and walks around naked in an open, public resort area! Notice… no tattoos on this perfect figure…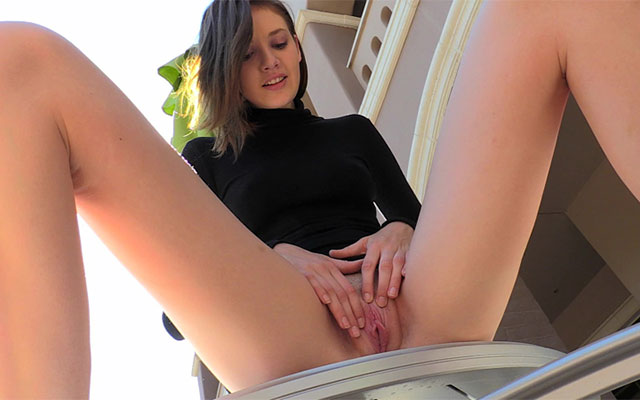 She finds a place inside a lobby by a windowsill, rubbing herself between her legs, in a rather sensual masturbation scene. We get to then see her pretty private parts up close, as she spreads and fingers herself (and she seems to be naturally wet all the time!). Finding a large, long eggplant, she gives it a blowjob in the mirror, then penetrates herself with it, going as deep as she can go, with her juices building up on it… showing us how far deep she got it naturally, and how wide the eggplant stretches that surprisingly petite vagina!
To see more of this gallery make sure to
click here
She wants to get naked again, so she takes her dress off and walks in the nude on a street… She then gets introduced to the Eroscillator Toy (she's never used a vibrator before) and ends up having such a strong orgasm! Such strong vaginal contractions… According to her, she's never orgasmed while masturbating, so its her first?!? She then plays around in the pool in the nude, and does some dancing to music both in a bikini as well as naked. Love the way she moves her butt!
She finds herself a popsicle, then stuffs it inside her, making it melt immediately and drip sugary juice out of her… Then she continues the watersport theme by peeing out on the rocks, and taking a sensual shower. This is just the warm-up shoot for her on the first day, she's going all out kinky on the next shoot with the confidence of being one of the cutest FTV girls to ever grace the site 🙂
---
This leggy, supercute tall, and now-confident teen decides to go shopping… and it ends up becoming a cute little public nudity session! She visits a department store in search of cute heels, and with her super short shorts, we get to see little peeks between her legs where her vagina sticks out! She does some modeling for us, walking back and forth in the isles, flashing her full firm breasts…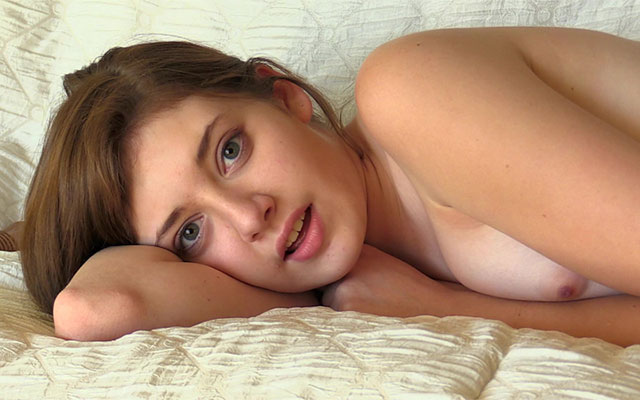 To see more of this gallery make sure to
click here
Then goes into the changeroom to shoot herself getting naked, trying on dresses, and fingering herself! Then at a restaurant, she puts her legs up on a table, and plays with her private parts! She's getting more daring… and theres something incredibly arousing about getting those peeks between her long legs.
She then goes home, and masturbates in the nude with the Eroscillator Toy, and ends up having another strong orgasm, with visible vaginal contractions right in your face! Then its all about anal play, and being rather new to it, we first see her finger herself deep in the butt, getting to learn a little about deep anal penetration, then going wider as she starts stuffing more fingers. She ends up getting four fingers inside her butt, and trying to gape her virgin butthole as wide as she can! She then gets fingered in the butt, and has her vagina pushed upwards through the anal walls… kinky!
Then comes out the 7 inch blue toy, which she gets inside her butt all the way to the base! That some seriously deep anal penetration! She then fucks herself with it, learning the 'feeling' of having anal sex. Then we get kinkier with a speculum scene, and she shows off her 'muscular' vagina as it contracts around the device while you see deep inside! Ever experimenting with bigger things, she then tries a large glass toy, which she pushes as deep as it can go, and then fucks herself with it, using her strong vaginal muscles to push it out.
To see more of this gallery make sure to click here
On the second day, we see her in a beautiful white dress and pink heels, watch her parade around giving us upskirt views and seethrough shots of her dress, and see her finger herself near a construction area. Then its all about her sexy heels, when she takes them off at home, gives it a blowjob, then fucks herself with her shoe heel in a rather sensual kinky penetration scene. More Eroscillator play is next, and she ends up with another strong orgasm, with her strong vaginal contractions explicitly exposed.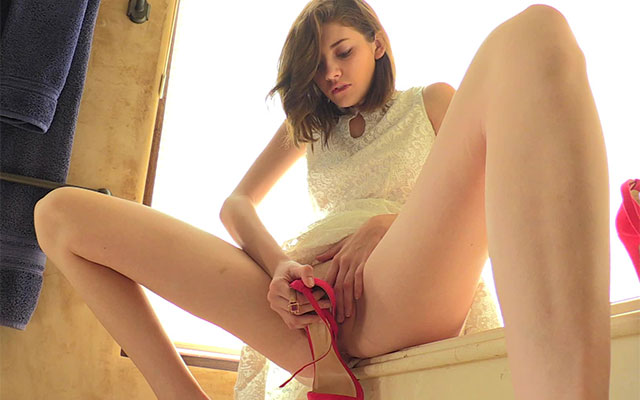 We go up close to see her pretty private parts and her swollen clit; and then she plays with her long labia, stretching and pulling it — even wrapping it around her finger!
To see more of this gallery make sure to click here
Best for last, she tries out the Big Ten Toy, first giving it a blowjob, attempting a deepthroat, then penetrating herself on the couch. She fucks it hard and fast, then rides it for a very sexy Big Ten Toy ride, going really deep! She ends the day with a nice dinner, and give us her goodbyes. She's the ideal FTV girl — a total first timer, with a naturally beautiful look, a sweet innocent charm, and a kinky side she wanted to express here, on FTV 🙂