Ftv Girls Alex & Nina North in Sharing the Pleasure
These two girls had strong chemistry immediately, and it certainly shows! We meet up with Nina and Alex as they embrace in the kitchen, engaging in what was to be the first of many kisses throughout the day…they were both wearing sexy bras and panties and looked like a dream as they stripped down to compare their breasts and have some fun, eventually getting completely nude as they laid on the couch where Nina started licking Alex's pretty pink pussy.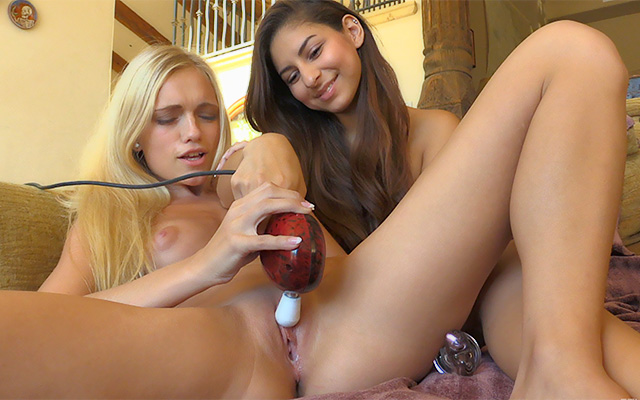 Alex loved the oral attention but soon it was time for a little more power, so the girls took turns with the strong Vibra King toy! Alex wasn't expecting it to be so powerful and it quickly brought her to a strong shuddering orgasm, and Nina immediately followed suit with an orgasm of her own.
To see more of this gallery make sure to click here
Back at the hotel room Alex gave Nina's large breasts some attention, massaging them and licking her nipples before the girls took turns licking each other's cute privates. Nina found a double-ended dildo and the girls started playing with it, using it to smack each other on the butt for fun before having a deep-throat contest, then putting it to work as they each took an end inside, getting penetrated together!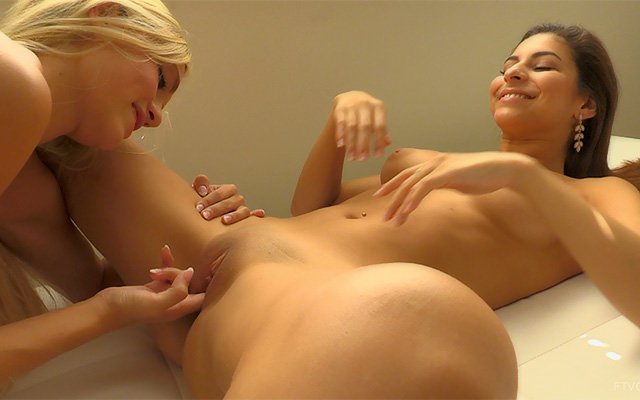 Alex had the idea to try Magic Wand Torture, a little game where one girl would pleasure the other with the vibrating wand until just before orgasm, then turning it off to heighten the pleasure before finally letting her cum like a freight train.
To see more of this gallery make sure to click here
Later we see the girls outside having fun with some public nudity and kissing, giving us some upskirt views as they make out before heading back inside for more oral vagina licking fun.
To see more of this gallery make sure to click here
Alex wanted to try something a little kinkier and fisted herself before letting Nina gape her vagina – note how wet she still is inside – before Nina tried it too!
She gave fisting her best effort and it was a near thing but it didn't quite work out so the girls headed back outdoors to the trails where they flashed their breasts (Alex is quite petite and Nina has larger boobs) and flashed some lucky golfers who certainly enjoyed the show!
To see more of this gallery make sure to click here
Changing into their bikinis we see the girls at the beach flashing and playing while a couple did some engagement photos in the background…these two bisexual teen lovers are certainly unafraid of getting naked where people can see! They each took a turn masturbating on a rock with a vibrating toy, bringing themselves to yet another strong natural orgasm apiece before heading off into the sunset. Enjoy these two adventurous, beautiful, and downright irresistable lovers in a hot day of girl-girl fun here on FTV!