Ftv Girls Addison in Ftvs Sweetheart 3 & 4
The beautiful Addison returns, nearly a year later — and she looks hotter than ever!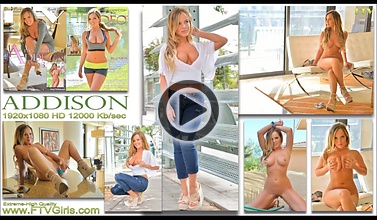 We meet her at a popular collegetown area, walk with her and have her reintroduce herself.
To see more of this gallery make sure to click here
She's wearing sexy jeans, and a shirt that very easily helps flash those perfect, full natural breasts. A lot of public nudity ensues, with her flashing her breasts around town, then getting her bottoms off to show off her sexy butt. Finding a place to get completely naked, she ends up running around water sprinklers in the nude, and proceeds to masturbate… that is until security shows up and asks us to leave.
She ends up finding another place to masturbate, and squirts several times, then goes home to have a nice strong orgasm with visible vaginal contractions. We then visit a golf course and park, and watch her jog in a sexy new sporty outfit. Of course, the top comes off and we watch her run with those breasts bouncing everywhere! And then she gets completely naked, letting us enjoy her full nude figure out in the sun.
Then she gets kinky — using a water hose as a sex toy, she pushes it inside her, then squirting water out!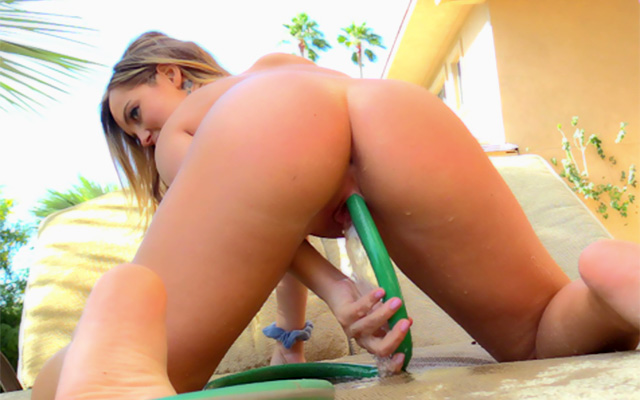 She tries several different positions, and ends up riding the water hose too.
To see more of this gallery make sure to click here
Then we see her at her sexiest — with a form-fitting short dress, panties underneath, and sexy wedge heels. We watch her give us upskirt peeks, then finger herself, and give her breasts a nice hard massage. Then, using a dildo, she penetrates herself up close for our pleasure. Then she rides it… going deep.
——–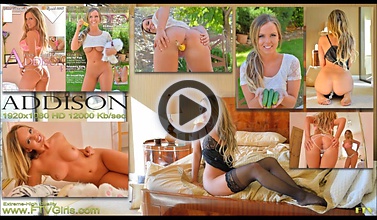 To see more of this gallery make sure to 
click here
On the second day of her shoot, we see her in the pink room, wearing a cute bra & panties. Checking herself out in the mirror, she strips down, spreads her butt cheeks, and squeezes her breasts hard. Then she takes her panties, stuffs them inside her, and pulls them out with her toe!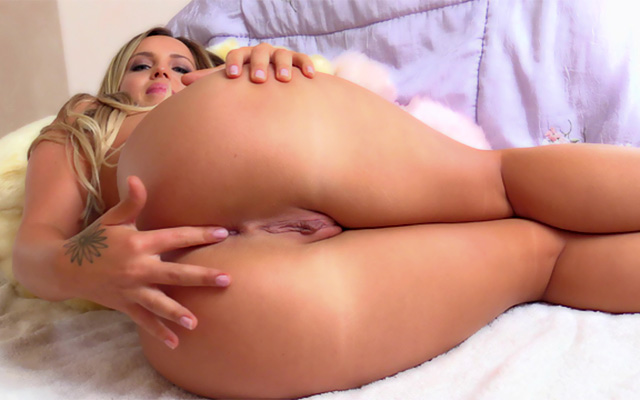 To see more of this gallery make sure to 
click here
Using her favorite vibrator, she then masturbates to orgasm, with nice vaginal contractions seen up close (and a mini squirt). We then get extreme closeups of her private parts, as she spreads her clit, and pulls on her labia. Playing anally for the first time, she finger herself in the butt, then uses two!
Outside, she puts on another cute white outfit, and proceeds to give a banana a blowjob. Pushing it inside her small, tight vagina, she makes most of the banana disappear, and has sex with it… that is until it squashes inside her. Then, using three small cucumbers, she tries to push her limits further — double penetrating her vagina with two cucumbers, then pushing one in her butt!
To see more of this gallery make sure to click here
Later in the day, we see her in sexy stockings & heels, and a black nightie. Comfy in the bed, she teases us a bit, then takes her stockings off… and finds a long, beaded toy. Pushing it in her vagina, she gets all the beads inside her, then gives us sexy views of it coming out of her. Then she does it anally, and we get some very extreme closeups of those beads popping out… and how pretty her private parts are in such extreme detail. She gets to some hard pounding with a glass toy, which eventually leads to her masturbating again, with a big squirt and orgasm in the end. Its nice to have our FTV favorite back, and hope to see her assisting on some shoots later on 🙂